Career steps within DP World
Bas Rijkers took the first steps in his career within DP World (then syncreon) and continues to take steps within the organization. One of the reasons that he can still get his money's worth within DP World is because of training opportunities. But also, because he can continue to develop in his career in the directions that appeal to him. Be inspired by Bas' story! Who knows, syncreon may also bring you great career possibilities.
Could you tell us a bit about your career so far?
Bas: "Absolutely! During my HBO study at the NHTV (now BUAS) I had to do an internship in the third and fourth year. Looking for an internship company, I decided to drive around the business park in Waalwijk. That's how I entered the organization. And with success! I started my internship in 2015 in Waalwijk 2. The guidance I got was very good. I learned a lot because I was allowed to watch everywhere, observe processes and take measurements. I saw a lot of potential to do further research, so I decided to do my graduation internship in Waalwijk 2 as well. Again, with success!
Career steps within the same company
After successfully completing my HBO study (BSc. Logistic Engineering) I was offered a job as a Process Engineer in Waalwijk After working for two years in the role of Process Engineer, I wanted to further orientate myself on Project Management. Which led me to successfully apply for the position of BPI (Business Process Improvement). I have been able to supervise three projects in Tilburg with a successful delivery. After a year I found out that I get a lot of energy from working with people and that I wanted to develop myself further in leadership. After several conversations with different professionals and layers within the organization, I was advised to focus my next role towards the operation. At the time, the Customer Service Manager vacancy in Tilburg was available, which perfectly matched my desired developments. In this role I learned a lot about leading a dynamic team, working with the customer, the operation and handling of complaints. Due to the wide variety of experiences I have gained within DP World, I am proud to take the next step in my career. At the beginning of 2022 I started a new challenge in the role of Business Support Manager in Waalwijk 2. In combination with the accountability of the various departments (Customs, Quality, Inventory, Health & Safety, Engineering, Business Intellegence) and Multi-Client location, it offers me a huge broadening with great opportunities and challenges.
Lean Six Sigma Green Belt training
Since you never stop learning, I was happy to have the opportunity to do the Lean Six Sigma Green Belt training. Lean Six Sigma is a method for organizing quality and efficiency improvements. The method fits into the field of operations management and serves as a method to systematically improve/innovate processes. This training is built up in different levels where the Yellow Belt lays the foundation, Green Belt is the advanced course and at Black Belt you are the manager for Green Belts in this method (see image).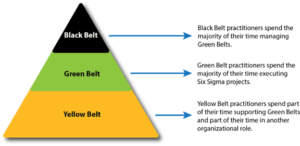 Studying during working hours
The advantage of this training is that you immediately combine the theory with application in practice. Six months of theory and six months of practice internally within the organization. Guidance was offered from the training, but also from the company itself. Together with the Business Unit Manager and Senior Operations Manager, we had already defined a project before the start of the training. As a result, the company gave me the opportunity to do this during working hours. That was a very nice opportunity, because the study, including the execution of the project, covered at least 20 to 30 hours per week.
Application in practice
The defined project focused on the Internal Transport Department (ITD). This department is responsible for the execution of all picking activities from storage and delivery to the various packaging departments. The goal of the project was to make the process errors (physically & information driven) visible, the most common errors had to be identified and removed to increase the output of the department. One of the solutions/outcomes was the implementation of a Virtual Master Carton which had to become part of the picking strategy, which label we scan and how the stock will be deducted. With the application of the Virtual Master Carton label, it was no longer necessary to reprint lost labels and an additional validation in the Warehouse Management System was developed so that stock is always correctly deducted after picking.
What did the training bring me?
In addition to more knowledge and a diploma, it has laid the foundation for what I do today in my work within DP World. Instead of just looking at the problem itself, I also try to look at questions such as, what, why, when and how big is the problem. It provides an extra layer of how we look at a problem and offers different perspectives. In this way I also try to stimulate colleagues to approach problems from these perspectives. By the way, the word 'problem' is a commonly used word that has a negative connotation. A manager once told me that a problem is not always a problem, it also offers opportunities. Think of it as a 'challenge'. This has always stayed with me and what I still use a lot today. Sounds much more positive right…?!
External training
Looking back on the completed training, I followed training from the employer every 2 to 3 years on average. For example, I also followed a leadership training at training institute De Baak. This included 6 training days spread out over six months. I also learned a lot from that. It has given me insight into what type of leader or manager I am and want to be. As a result, I know where my challenges lie and what I must pay attention to. I am happy to apply this daily and inspire my team with this.
Training within DP World
There are also countless training opportunities within DP World itself. I myself have followed the PMP-training courses and the interview techniques for assessment interviews. What lies ahead? I would like to follow a strategic leadership training, where inspiring leadership is discussed and where you learn how to bring out the best qualities in employees / colleagues.
What makes DP World offer many career opportunities?
Within DP World we know the people-oriented culture with good career prospects Translated to my own experience, I can say that I started at DP World as a student where I was able to take a look behind the scenes everywhere. During my career and the opportunities I have been given, I have been able to discover what gives me energy and what suits me best. The layers in the organization are also relatively thin, so you can ask for advice about development opportunities at various layers in the organization. . All the advice received, reflection, support, experiences and hard work have helped me in my personal and professional growth.
Do you also want to work and learn?
It is possible! More information about DP World and you can apply via this link. Prefer direct contact with a recruiter? You can via: +31 6 43158983 or via werken@dpworld.com.
DP World is also active on Facebook en Instagram. Follow, like and share our posts!