Baanbrekers, interview with Ricky
Baanbrekers, interview with Ricky
Baanbrekers is an organization that helps people with a distance to the labor market to fully participate in society and work again. They fulfill this role for the municipalities of Heusden, Loon op Zand and Waalwijk. The goal is that everyone participates according to their ability and with that starting point Baanbrekers links people to work and vice versa. At DP World there are also plenty of colleagues working thanks to Baanbrekers. We're going to talk to Ricky.
Ricky's story
Ricky works as first operator in Waalwijk 1 at the DCO department. Ricky says he had been at home for eight years and couldn't find a job. He was very disappointed until he was able to start working at DP World (then syncreon) via Baanbrekers two years ago. To start at the beginning… Ricky: "High school was not an easy time for me. I followed a pre-vocational secondary education at De Rooi Pannen, but I quickly became angry. As a result, I was expelled from school after three weeks because I got into a fight with the principal. Then I went to the Walewyc Mavo in Waalwijk, where the same thing happened within two weeks. People thought I was unmanageable and I went to a school that is now called the MET. A school in Waalwijk for young people who need extra guidance." Ricky managed to turn the tide there. With the right guidance he obtained his diploma.
Chef
Subsequently, Ricky wanted to do the chef training at the Rooi Pannen, but unfortunately he was no longer welcome there due to the earlier incident. That is why he decided to work in the hospitality industry. He assisted in the kitchen. "It started with small tasks. Pre-cutting, washing, collecting and delivering things quickly expanded to the fact that I was increasingly allowed to help with cooking. By now I was actually just working as a cook. At the restaurant where I worked I got into a conflict. I broke my ankle playing football, after a few weeks I would slowly go back to work for half days. But I was immediately scheduled 12 or 15 hours a day. That ended in a fight with the owners, which led to my dismissal."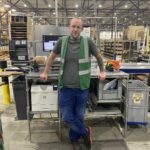 Be who you are
A difficult time begins for Ricky. He applies for jobs a lot, sometimes he works somewhere for a few months, but then it often stops. "I often get rejected when applying for a job because of how I look. Because I have tattoos, for example. Then you will also doubt yourself and sit down quite a bit. At DP World you can be who you are. They look at how you do your job and whether you are yellow, brown, green or purple, it doesn't matter."
Busy Bee
Because Ricky had been at home for a long time, he was introduced to DP World via Baanbrekers. Ricky: "I wanted to try it, I was very happy that I got that chance. I then started in the Etching department. I did that for 1.5 years. They asked me if I would like to learn something else. I liked that. I've been working in the DCO department for six months now and I got a contract with syncreon.
Variety
I am busy with many varied things, which I like more than just working in the line. One moment I'm on my way to shipping to pick up a box, then I'm making a new label or answering an email. I am busy all day and walk a lot. I like that and it's going very well. What more could I want?
Maybe a step up again in a few years would be nice. But don't worry, if you go too fast you will shoot yourself in the foot. Who knows, I might become a manager or director one day."
"If you go too fast you shoot yourself in the foot."
Good guidance from the supervisor
Where Ricky used to suffer from anger outbursts, that is now a lot better. This is partly due to good guidance from supervisor Pawel. "I have been working with him for two years. He quickly notices when something is wrong. Then he asks me if everything is okay. Sometimes that's not the case, I don't quite have my day and then he says 'come, let's go outside together'. Or if I say 'let me just a minute', then that is possible. He knows me well and that is very nice.
Wise advice from Ricky
I have learned that you should always be yourself. When it all doesn't work out, you start doubting yourself – is it just me? But if you're going to pretend otherwise, you won't last. Then your employer sees two faces and they have less confidence in you. Then you don't get the opportunities that I have had within syncreon. Which allows me to do and learn more and more things. Because I, despite everything, have remained myself and do my job well, I have been given opportunities within DP World."
More information about Baanbrekers? See: www.baanbrekers.org. You will find our current vacancies here.
DP World is also active on Facebook en Instagram. Follow, like and share our posts!