Fairy tale within DP World: Making a career in Seven Mile Boots
Fairy tale within DP World: Making a career in Seven Mile Boots
"Take a step more every day, no matter how small it is. Eventually you'll end up exactly where you want to be", is the saying of Martin Gijzemijter. However, Ionela Sion was not interested in that. Management and HR also saw her potential for a major career step at once. Within Waalwijk 1 she was promoted from operator to warehouse manager. Not common, but nothing is impossible, it turns out.
Once upon a time….
Ionela was born in Romania, but grew up near Bergamo in northern Italy. She studied business economics in Verona. After her studies she got married and they travel a lot together. Life went well. However, on her last intercontinental trip to Costa Rica in February 2020, things changed. Corona had the world in its grip. In April of that year she would go back to Italy. That went a bit differently. There were no more flights. With a repatriation flight from the government, she did not return home until August of that year.
Turnaround due to corona
The northern Italian region in which Ionela lived was particularly hard hit by the pandemic.. There were many deaths and the army marched through the streets. There was a culture of fear. Businesses closed and jobs were lost. She had to step beyond the boundaries of her comfort zone and her country in search of work. Through Indeed, she found a vacancy at DP World (then syncreon) through an employment agency. She took the plunge and got on the plane. At DP World in Waalwijk 1, she was able to work as an operator in the manufacturing department. Her husband is lucky enough to work for a Canadian company in IT and can work remotely.
Build a life
In her role as an operator, she did well.. She worked a day shift and when the project ended she was moved to another department: DCO. Slowly but surely, she caught the eye of her supervisor for her good work. Ionela: "Because I already had Dutch housing, I was hired on a permanent contract. That gave me more stability and security, which is nice when you are new to a country. This was in 2021, a year after I started at syncreon.
Bold shoes on
I was happy but also noticed that I was starting to get a little annoyed, because I know I have more to offer. I told my supervisor that. In the canteen I see many vacancies, such as that of UAT tester. I wanted to apply for that. An office job, in the front office, that seemed like something to me."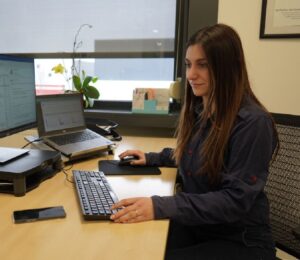 Special twist
Ionela applied for the vacancy but the hiring manager told her: "You can do more than this.. You are overskilled And in this new job, too, I think you will quickly get bored." But the well-known ball had started rolling. She got an appointment with Jochem Vullings, the site director of Waalwijk 1. In fact, it was an application for no position in particular. He asked her, "What would you like?" Ionela said: "I want to become a manager and that will be my office." She pointed to her manager's office at the time. Jochem had to laugh hard. That answer was unexpected. They chatted some more and Ionela's vision and ideas for improvements turned out, without her knowing it, to be very much in line with those of the site director.
From 5 to 50 people
But simply skipping a lot of function layers from operator and suddenly becoming a warehouse manager is not an option just like that. Right? Ionela: "It is difficult, such a big step. This requires growth and experience. So the suggestion was made to promote me to supervisor first and to grow from there. I did all kinds of assessments, I scored excellently everywhere. Also because I had already gained managerial experience in a family business in Italy, I was considered suitable to become a warehouse manager. Only in Italy did I manage 5 people, now 50."
Happy
Ionela: "I could hardly believe that I gained so much confidence. Sometimes I feared that the track might be too much of a challenge all of a sudden, but luckily it isn't. I really like my job, but it also has many challenges. In the first quarter we had huge volumes to process, there was a lot of pressure, our customer launched a new product and we didn't have enough people. When we had enough people, they all still had to be trained. That's not easy.. It sometimes feels like a roller coaster, but it all works out and I get a lot of satisfaction from it.
Appreciation of the team
To be honest, I was a bit scared of how the team would react. Suddenly, for example, I was the manager of the person who used to be my manager. Would my colleagues accept me as their new manager? There are supervisors walking around with years of experience, what do I have to tell? But they really accept me as their manager. During that busy period everyone was tired, we had worked a lot of overtime. One Saturday in particular I remember that we were afraid not to meet our deadline, but in the end we made it – the last order is processed by the supervisor himself. The best compliment I received from the team: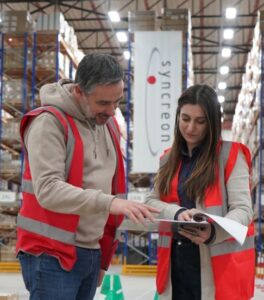 People manager
Ionela: "I think the human factor is the most important thing. Connecting, that's something I've also learned during all my travels. Dealing with different people from different backgrounds. I sometimes feel that they expect me to tell them how to do it, but I often ask "what do you think we should do?" That works very constructively. I think a good work-life balance is important. For myself and for my team, so I always keep a close eye on that. That is why, for example, we hired more first operators to be able to achieve this. When I walk on the floor I find positive people laughing with each other. That makes me feel good."."
[Quote: "It applies to everyone; if you want to take a step within DP World, please inform your manager. If you want to grow, there are plenty of opportunities in this company. You have nothing to lose, only to gain."
Future
As in every fairy tale, Ionela also wants to live happily ever after. Ionela: "I have already taken a Dutch language course through DP World. I want to improve that even further, which is why I listen to Dutch radio a lot in the car. I want to build a life in the Netherlands with my husband."
Would you also like to make career steps within DP World?
Discuss your wishes with your manager or with your local HR advisor.
DP World is also active on Facebook en Instagram. Follow, like and share our posts!